13,000 Patient Case Report: How 5thPort helped a Surgical Practice

with Patient Engagement & Informed eConsent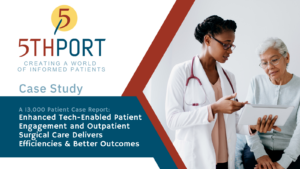 As operative techniques improve, and reimbursement models dictating efficiencies, an increasing number of surgical procedures are performed on an outpatient basis. In the U.S., 52.7% – or more than 11.5 million surgical cases – are performed each year in ambulatory care centers following outpatient protocols. 
This rapid increase has created a patient management challenge that can become overwhelming, resulting in fragmented patient experiences. A challenge that Dr. Berube's oral and maxillofacial surgical center wanted to solve.
In 2019, Dr. Berube's surgical practice adopted 5thPort digital patient engagement platform to achieve the following objectives:
Improve the patient appointment experience
Eliminate duplicate data entry for administrators
Reduce informed consent risks
Enhance overall patient engagement
With over 13,000 surgical and anesthesia patient experiences performed by two surgeons, the team documented the impact of the digital transformation on their patients, staff, and the practice.
Download the case study and learn how the healthcare transformation, and digital transition to 5thPort allowed for complete patient engagement throughout the surgical practice and helped in automating their everyday manual tasks.