Elevate Your Clinical Trial Compliance
Clinical trial compliance: Turn your consent form tracking nightmares into eConsent dreams.
Incomplete, incorrect and outdated informed consent forms not only pose risks to the integrity of your clinical study, but also demand substantial time and effort to rectify. This can pose problems with clinical trial compliance.
5thPort's digital patient engagement and eICF (electronic informed consent form) solution challenges these issues head on, enabling you to achieve the highest standards of clinical trial compliance with powerful accuracy.
eConsent is the future. Rely on paper no more.
Gone are the days of numerous informed consent form paper copies circulating within your trials. With 5thPort you will be sure of:
Streamlined digital consent workflows and monitoring
Real-time access to eConsent historical data
Trackable record-keeping of every patient/staff interaction on an Informed Consent Form
Informed Consent Form version control
Strict access permissions/credentials
Informed Consent Form auditing made effortless: discover the power of 5thPort's eConsent tracking capabilities.
Maintain a state of constant audit readiness with
clinical trial compliance audit features
When auditors come knocking, 5thPort's rigorous clinical trial auditing features stand ready – meaning big savings on money (and time!) in your audit. Your trial's eConsent activities are meticulously documented, making audits smoother and helping you confidently showcase your clinical trial compliance efforts.
5thPort's One Touch Compliance Report provides a detailed record of every patient and staff interaction taken in your patient's engagement journey. It supports your goals of minimalist yet comprehensive audit reports while ensuring your staff has a thorough understanding of your eConsenting progress.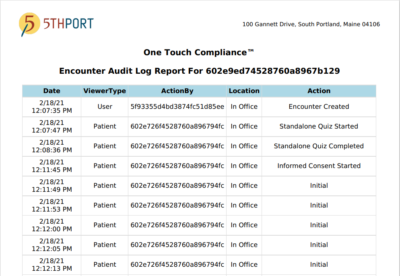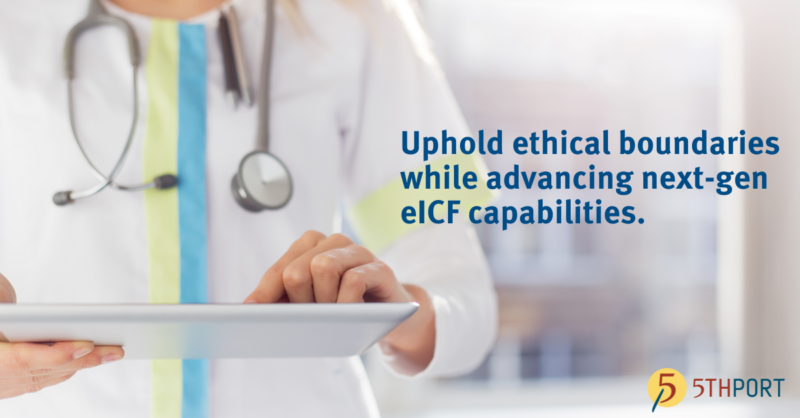 Uphold ethical eConsent boundaries and
safeguard patient well-being.
Standardized messaging elevates transparency: Through its standardized engagement and eConsent information, 5thPort ensures that patients consistently receive accurate and clear messaging throughout the entire trial journey – whether that be in decentralized clinical trials or hybrid clinical trials.
Digital boundaries of care: With 5thPort, interactions are defined by authorization that are meticulously controlled, preventing unintentional disruptions.
In other words, only authorized individuals are granted access to their own patients' eConsent forms – meeting the highest standard for clinical trial compliance.
Blog: Risk Mitigation in Clinical Trials
Dr. Robert Berube, Co-Founder of 5thPort, writes about the risks associated with decentralized clinical trials (DCTs), hybrid clinical trials and how 5thPort's patient engagement and eConsent capabilities greatly minimizes those risks while drawing from his experiences using the platform