Two very different life-experiences and a rough sketch of an idea started co-founders Dr. Rob Berube and Navroze Eduljee to create 5thPort's electronic informed consent software.
Rob has been a practicing surgeon for the past 30 years. He's always believed that when patients have a better understanding of the risks and benefits of the therapies that they may undergo, they achieve better clinical outcomes. He believes in the objectives of the Quadruple Aim and Shared Decision Making, but like others in healthcare, has struggled to efficiently implement the protocols in his busy practice.
Navroze and his company, DecisivEdge, have taken several technology concepts in a variety of industries and turned them into successfully commercialized products.
With healthcare transitioning to a value-based model, the idea of patient engagement as a practical approach to driving better clinical outcomes was timely and it is the simple premise behind 5thPort's eConsent software.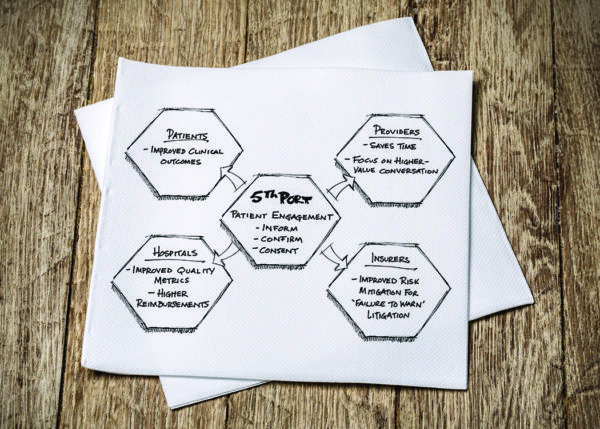 By leveraging multi-media and facilitating a meaningful e-consent process to effectively and conveniently engage patients pre- and post-treatment, the two saw an opportunity to have a positive effect on the delivery of healthcare, envisioning a platform that would bring value to multiple stakeholders in the healthcare delivery continuum. Their commitment to that cause brought 5thPort to life!